Design Your Own Vinyl Labels (request a price for your vinyl labels)
We produce self adhesive vinyl labels printed and shaped to your requirements.
Price Guide (per A4 sht)
1-4  – £10.50 vat /sht
5-9  –   £9.50 vat /sht
10-19 – £9.00 vat /sht
20-29- £7.50 vat /sht
30-39 – £7.00 vat /sht
40-49 – £6.50 vat /sht
50 shts – £6.00 vat /sht
Setup Charge of £25.00 may be required for complex designs.
P&P £3.95 plus vat
These labels are printed onto white A4 sheets of self adhesive vinyl and contour cut to whatever outline shape you require. The size and print colours are also entirely up to you and you can choose to have glossy or matt vinyl. Pricing is per A4 sheet.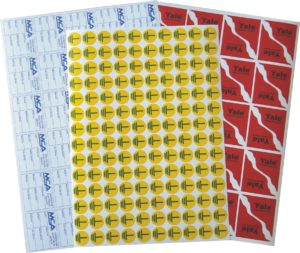 To order please "Upload Design" to show us how your labels should look and complete the remaining details below. In the quantity box please enter the number of labels you want so we can work out how many A4sheets will be needed and determine if a set-up charge is required. We will e-mail a quotation and wait for your purchase order/payment before proceeding.
Product Total: