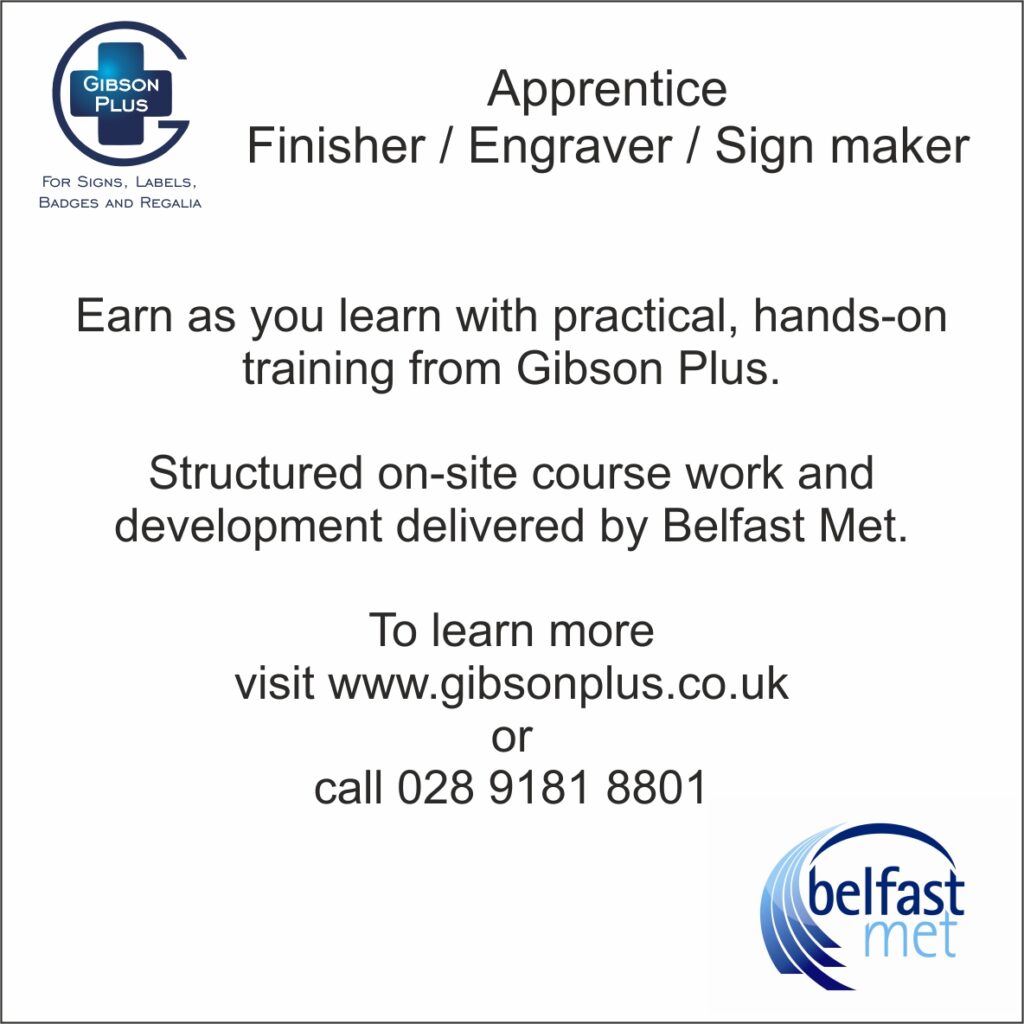 Job Description
In partnership with Belfast Met, Gibson Plus are offering you a pathway into the world of work. Belfast Met provide training and course work on site without the need for travel to the college.
Gibson Plus provide real work skills and experience on a wide range of modern production equipment. Experienced operators will instruct and guide you to develop the necessary knowledge and abilities to produce labels, signs, and badges to a professional standard.
If you feel you are ready for the next step in your career and you are interested in developing the necessary abilities to fulfil the following job requirements, then this position offers an exciting opportunity for full time employment while you learn and develop on the job.
Are you interested in working with your hands and seeing the finished results of your hard work packaged and despatched to customers far and wide?
Are you well organised and capable of closely following instructions then applying those instructions and working on your own initiative to complete a given task?
Do you want to learn new skills, and develop your potential?
Are you ready for a full-time paid position? If so, this apprenticeship opportunity could be ideal for you.
Remuneration
Pay will be in line with the relevant apprentice wage scale depending upon the successful applicant's age and experience. Full time (negotiable) hours. See https://www.nidirect.gov.uk/articles/national-minimum-wage-and-living-wage
Main duties will include:
Carrying out all tasks and instructions in accordance with health and safety procedures.
Maintaining a clean and tidy workplace.
Operating – guillotines, circular saw, pillar drill, beveller and printing equipment and vinyl application equipment.
Preparation of orders and packaging ahead of final inspection and dispatch.
Checking for errors and spelling mistakes.
Essential Criteria:
The successful candidate should have Maths and English GCSE at level C or above or equivalent qualifications.
Applicants lacking these qualifications may also be considered but continued employment cannot be guaranteed until the requisite qualifications are achieved.